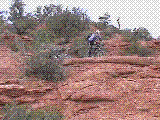 cbosman
The Poker on Rollicoaster Proper
You do a little faith drop into a
slot of boulders.
In the apex/Landing zone stands a
Stump/Tree's boney limb poker,
aimed at your Guts.
Not to say no one rides it, many do.
I haven't been there lately, so I wouldn't
be surpassed if the obstacle had been removed
since this footage was taken over 2 years ago.
It is doable, has been done,
it's had it's fair share of mishaps
too...even for the best.
Enjoy Long Hair Mike
on it...